Classic lighting planning and Lighting Design
Why do we separate lighting planning and lighting design?
Because they are two different disciplines. Light planning is used to calculate the number of luminaires needed to meet the requirements of the room and follow normative and practice. The method shows mounting height, type of luminaire including its power and any reflectors with other additions as well as their approximate location and looks for energy efficiency in the installation with regard to budget. That is, if you give a budget to a lighting company, they will use the luminaires that your budget allows and for the amount and power and distribution that meets the requirements for the room and will only stick to their own luminaire range. That being said, there are also companies that do not approve of projects that do not have the economy to illuminate the room correctly with their luminaire range and thus mix lighting planning with light design and provide the best of both worlds. Light planning is a tool that lighting companies, among others, use to know how many luminaires they should sell in order to meet the requirements for standard and the method also shows which luminaire is to be used. Lighting planning takes very little account of color, shape, design and materials in addition to the reflection degree for walls, ceilings and floors. A good example that shows the difference between light design and lighting planning is that in light planning one can apply the same luminaires and the same installation picture in two completely different rooms. Lightig desing sees every project as unique and demands of the lighting designer to look at each project as sutch.

Working methods: Light design
The first step is to gather information that should be up-to-date and relevant and consists of everything related to the project as materials, colors, dimensions such as ceiling heights, type of roof, type of wall, daylight inlet, furniture, people who will be in the space, the surroundings and more . Depending on the project, it may be necessary in some cases to also research the surrounding area and history of the city or the land building or the object's history. It includes performing tests on complex materials and surfaces or areas to see attackable points. The next step is plotting the information over the plan DWG provided by the client. Plotting is done in the software Dialux 4.14 or EVO depending on the project. We do all the jobs in Dialux 4.13 and Evo 8.1. and Relux if needed. In the software, the last tests of planned lighting are made, as well as calculations for the amount of light and glare risks are reduced or eliminated. Step three is the compilation of all information and test results to a completed project that is always delivered in pdf format and printed format if needed and /or requested. What you get is a 3D visualization with correct values ​​for the entire project, positions for luminaires and luminaire selection or luminaire type with purchase information and documentation for electricians and installers to follow.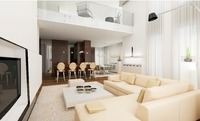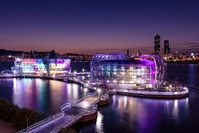 Working methods: Classical lighting planning
Classic lighting planning is a method used to get the luminaire type, the number of luminaires, the power and the height of the placement to comply with standard, regulations and recommendations. The information that is based on is the regulation and European and Swedish standard for Light and room. The method can be performed quickly and the planning is done in Dialux on the DWG plan. What you get is a lighting calculation that shows the number of luminaires to achieve values ​​that follow standard, mounting height and placement made in the program Dialux with the luminaires or luminaire types that the regulation stipulated. I have no agreements with luminaire companies or other agreements that connect me in the choice of luminaires and can therefore stick to the budget you desire. If you have a project that you want to be elucidated that lacks regulation, I can assume it if you have a budget for the lighting. What this means is that planning from me can contain luminaires from different companies and I can therefore tailor my plans to the needs of the object in every way and keep your budget.

Lighting Design
Light design is a very broad concept and is normally more time-consuming and requires a lot of information and sometimes involves some investigation and study visits if the site already exists otherwise this is done with information collection and over detailed plan. Light design is almost always built in Dialux EVO and is designed in 3D and can be about solving difficult lighting situations where there may be sensitive material such as porous facades, k-marked buildings, UV-sensitive surfaces or art, etc. or that lighting conditions are difficult. Light design can also be about wanting to embellish or emphasize or increase value. Light design can also be used as an economic tool to increase merit and can also be used in industry and / or for ergonomic purposes. There are several areas where light design can be applied.
Payment of such a project is made after agreed upon by the size and complexity of the project, but can also be purchased to some extent in the web shop.
Arbetsmetoder: Klassisk belysningsplanering
Klassisk belysningsplanering är en metod som används när man vill få fram armaturtyp, antal armaturer, effekt och placerings höjd för att följa standard, föreskrift och rekommendationer. Informationen man baserar sig på är föreskriften och Svensk standard Ljus och rum. Metoden går snabbt att utföra och planeringen görs i Dialux på plan DWG. Vad du får är en belysnings beräkning som visar på antal armaturer för att uppnå värden som följer Svensk standard, monterings höjd och placering gjort i programmet Dialux med de armaturer eller armaturtyper som föreskriften bestämt. Det tar mellan 20 minuter upp till 1 ½ timma för enkla rum och upp till 8 h eller mer för större projekt, därför ser jag helst att man har ett löpande abonnemang med en fast månads kostnad. Det blir billigare för er per projekt och enklare för mig att hålla planering. Alla projekt och arbeten som tar längre en 8 h att planera debiteras en kostnad för överskjutande tid till reducerat pris för abonnenter. Projekt utan abonnemang debiteras ackord per timma.

För föreskrifts lösa projekt
Jag har inga avtal med armaturföretag eller andra överenskommelser som förbinder mig i val av armaturer och kan därför hålla mig till den budget ni önskar. Om ni har ett projekt ni vill få belyst som saknar föreskrift kan jag åta mig det om ni har en budget för belysningen. Vad detta innebär är att en planering från mig kan innehålla armaturer från olika företag och jag kan därför skräddarsy mina planeringar till objektets behov på alla sätt och hålla eran budget.
För större projekt överstigande 8 h
För abonnenter debiteras reducerad summa per timma och faktureras månadsvis. För icke abonnenter debiteras en sedvanlig summa om 650 kr / h för Klassisk belysnings planering.

För icke abonnenter
Hur ni köper tjänsten ,se fliken webbshop. Där väljer ni vilken storlek erat projekt har och vilken typ av rum det är och bifogar all information som tillkommer projektet som: föreskriften, DWG ritning, tak höjd, och om tilläggs info finns skriv gärna in det också. Ni betalar med visa kort i kassan. Därefter får ni ett bekräftelse mail och leverans info. Om jag behöver ytterligare information kommer jag att kontakta er utan tillkommande avgifter. Pengarna debiteras erat konto först när ni när jag skickat er diossier med erat projekt.

Väntetid
Beroende på belastning kan väntetiden uppgå till 2 veckor och företaget förbehåller sig rätten att neka projekt oavsett storlek. Uppdatering om er köplats och leveranstid skickas regelbundet till alla klienter.
Ni bokar tid med mig klicka här!
Ljusdesign
Ljusdesign är ett mycket brett begrepp och är normalt sätt mer tidskrävande och kräver mycket information och innebär ibland en del efterforskning och studie besök om platsen redan finns annars utförs detta med informations insamling och över detaljerad plan. Ljus design byggs nästan alltid i Dialux EVO och ritas i 3D och kan handla om att lösa svåra belysnings situationer där det kanske finns känsligt material som porösa fasader, k-märkta byggnader, uv känsliga ytor eller konst med mera eller att belysnings förhållandena är svåra. Ljus design kan även handla om att man vill försköna eller framhäva eller öka värde. Ljus design kan även användas som ekonomisk verktyg för att öka förtjänst och kan också användas i industri och/eller i ergonomiskt syfte. Det finns flera områden där man kan tillämpa ljusdesign.

Betalning av sådant projekt sker efter överenskommes efter projektets storlek och komplexitet men kan även till viss mån köpas i webbshoppen.